2022 - A year In Review

What a 12 months we've had at Aegaea Towers!
New people, new projects and a growing sense that this company is something special.
What's happened around here?
The New Year is often a time for goal setting and to make some new resolutions. To do that effectively for 2023, we thought we should take a look back at what we managed to accomplish in 2022. It's been a BIG year for us – we've learned a lot, delivered a lot and set ourselves up to continue the trend in 2023.
Team
We started our year with a team of 5. We've welcomed, Nick Darling-Drewett, Alex Brennan, Oliver Manston, Ismini Sarikou, Kirsty Tolson and Oliver Harvey this year, bringing our consultancy team to 11. These additions have given us a truly excellent consultancy team who we're incredibly proud of and who are well placed to take on 2023.
Our team have undertaken training in TUFLOW, WINFAP/FEH, Property Flood Resilience and Project Management – making sure that we're at the cutting edge of technical excellence in the industry.
But we're also showcasing our technical expertise to others. Our team presented at the TUFLOW conference and gave CPD to Architects and Planners, attended the BHS Symposium and have been appointed (Kirsty) as Chairperson of CIWEM South East Branch and (Daniel) Ordinary Committee Member. Beyond that, we've consulted with the World Bank, published technical papers and generally made a name for ourselves as experts in all things water.
We've also been delighted to welcome Lisa Slater as Operations Manager, helping us to deliver our work, manage our staff and set us up for a successful 2023 by increasing our focus on operational stability, performance, and team management.
Projects and Skills
Our core focus of Flood Risk, Drainage and Flood Modelling has gone from strength to strength. We've delivered Flood Risk Assessments for single unit extensions to 2,500 home schemes (from Penzance to Orkney). We've undertaken modelling and hydrology studies in Saudi Arabia, Sri Lanka and Portugal. We've been expert witnesses, project managers and technical experts across the UK. Check out our spread of our UK projects.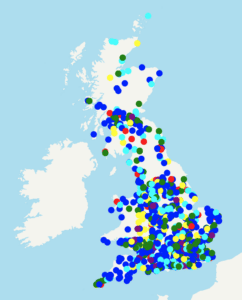 But we didn't stop there – we have taken on new challenges including Water Neutrality Assessments, Nutrient Neutrality Calculations, Flood Vulnerability Assessments (both commercial and residential) and Integrated Catchment Modelling. We've been working with flood adaptive technology partners to help challenge the boundaries of the sector – improving flood resilience and design by trying to help shape the policy landscape. Something that we're incredibly proud of and look forward to continuing in 2023.
We have won and delivered some landmark projects from residential schemes to solar farms, hydropower to road and rail. Our consultants have worked alongside and on behalf of Local Government, Environment Agency, Multi Disciplinary Consultants, Infrastructure clients and house builders – truly demonstrating their ability and determination to deliver for all of them, holding core values of integrity, excellence and sustainability throughout.
Innovation
Our super secret squirrel innovation team has been working hard to improve tools, software and technology to improve efficiency and delivery. We've created mapping tools, CRMs, collaboration tools and calculators to ensure that we deliver a high quality, consistent product for all our clients, no matter of their size.
Doubling our size in a year has lead to challenges. The tools and methods of working that we used at the start of the year had to adapt to fit the increased staff numbers. Some of those methods we have put to pasture in favour of new ones, better suited to a fully remote team. These improvements and changes have put us in an excellent position for 2023 as we aim to continue expanding and growing.
Plus….we've got some brand new features and ideas to bring forward in 2023, so keep an eye out for those.
Website
The new Aegaea website has been a real success. We've been able to take greater control of our content and brand, delivering high quality research and updates on policy and the wider environmental landscape. These posts have helped our clients (and, we note with some pride, our competitors!) to understand the shifting landscape in which we have to operate. From the changes in rainfall allowances, to the PPG updates, our blogs have helped people understand not just what has changed, but how it impacts them.
We added a verified reviews platform (Reviews.io) to our site and we request a rating from every single job that we deliver. We've been overwhelmed by the positive responses and as of now, 94% of our customers would recommend us to someone else. This would be even higher if you take out the one that accidentally reviewed the EA's data delivery, rather than our service!
From a personal perspective, I find it really encouraging that aside from the technical delivery of our work, customers frequently use the words "friendly", "professional", "helpful" and "knowledgeable" to describe our team. Don't take our word for it – take a look at this review from a happy client.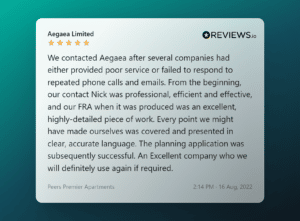 2023...What's Next?
We're looking forward to welcoming two new graduates in January who will help us deliver our work and bring on a new generation of flood specialists and getting the first recruits into our graduate training scheme.
We're looking forward to continuing to support all our clients and look forward to meeting new ones – delivering the same high quality, friendly and professional service that is the hallmark of Aegaea.
We're looking forward to more international work coming in, continuing to support infrastructure and resilience schemes all over the world.
Published By
Alex Brennan
Senior Flood Risk Consultant
I am a Senior Flood Risk Consultant at Aegaea. I have a particular interest in Natural Flood Management Solutions and the application of GIS to flood risk management. My dissertation at the University...
> View Profile
Request your free, expert quote now
Aegaea work alongside home owners, private developers, planning consultants, architects, local authorities, international development agencies and contractors. Aegaea know exactly how to help you.